Plenary Lecture

On the Link Between Energy Retrofit and Economic Evaluation Priorities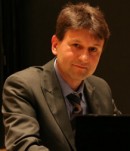 Professor Lamberto Tronchin
DIENCA - CIARM
University of Bologna
Italy
E-mail: Lamberto.tronchin@unibo.it
Abstract: The financial crisis of 2008 (and following) caused mainly the construction and real estate sectors to suffer. Moreover, the buildings are responsible of about 40% of incidence on energy emission. The economic crisis did not allow realizing new buildings, and the existing buildings have too much greenhouse emission, that needs to be reduced.
The Energy Retrofit actions could be a way to improve both sectors, because it reduces emission and real estate sector. But Energy Retrofit has some difficulties when it is used to evaluate a better energy, economic and technical solution.
In this paper we present an energy retrofit calculation about an Italian case study: one building typology that is supposed realized in several different periods, with different thermo-physic parameters. For each period it will be applied 4 energy retrofit actions, also will be calculated energy performance of the building, energy cost and economic Simple Pay Back Period (SPB). The aims of paper are to detect whether exists a linear relationship between energy saving increase and SPB decrease for each specific technology, for each different period.
Brief Biography of the Speaker: Dr Lamberto Tronchin is Associate Professor in Environmental Physics from the University of Bologna and is recognised internationally as a leading authority on the subject of sound and acoustics. A pianist himself, with a diploma in piano from the Conservatory of Reggio Emilia, Dr Tronchin's principal area of research has been musical acoustics, room acoustics and signal processing. He is the author of more than 160 papers and was Chair of the Musical Acoustics Group of the Italian Association of Acoustics from 2000 to 2008. Dr Tronchin is a member of the Scientific Committee of the CIARM, the Inter- University Centre of Acoustics and Musical research, has chaired sessions of architectural and musical acoustics during several international symposiums, been a referee for a number of International journals and is Chair of Organising and Scientific Committees of IACMA (International Advanced Course on Musical Acoustics).
He was a visiting researcher at the University of Kobe in Japan, a visiting professor at the University of Graz in Austria and Special honored International Guest at the International Workshop, 'Analysis, Synthesis and Perception of Music Signals', at Jadavpur University of Kolkata, India in 2005. He has chaired the International Advanced Course on Musical Acoustics (IACMA), organised with the European Association of Acoustics, which was held in Bologna, in 2005. In 2008 and 2009 he gave plenary lectures at International Congresses on Acoustics in Vancouver, Prague, Bucharest, Santander, Kos, Malta and Paris. He designed theatres and other buildings, as acoustic consultant, in collaboration with several Architects, among them Richard Meier and Paolo Portoghesi.