Plenary Lecture

Remote Supervising and Decision Support for On-Line Monitoring Systems in Power Plants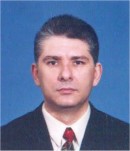 Professor Aleksandar Nikolic
Electrical Engineering Institute Nikola Tesla
University of Belgrade
Serbia
E-mail: anikolic@ieent.org
Abstract: Continuous or on-line monitoring systems are a must nowadays in large scale plants like thermal power plants. One of most important parts in thermal power plant are power transformers. Depending on installed power of the plant, there could be at least three or even much more high power transformers. Usually, they are equipped with several monitoring and control systems: thermal management and cooling control system, gases in oil analyzer, partial discharge of insulation analyzer. Proposed monitoring systems uses state-of-art devices connected to the high-speed Ethernet network with control room computer and power plant industrial LAN. In order to improve overall system reliability, it is a merit if these systems are supervised over Internet. In that case high power transformers operating in such a large system like thermal power plant could be analyzed and managed easily from remote location(s). The most important benefits are possibility to perform changes and improvements of measurement and control software in PLC, SCADA software on computer in control room, to check devices status and availability, perform remote maintenance. Additional advantage is decision support, where results taken from on-line monitoring systems are analyzed by external experts that help plant staff and management to make decision about plant operation when some of possible malfunction of transformers is detected or expected.
Brief Biography of the Speaker: Aleksandar Nikolic received the B.Sc., M.Sc. and Ph.D. degrees in electrical engineering in 1991, 1999 and 2009, respectively, from the Faculty of Electrical Engineering, University of Belgrade, Serbia. Since 1995 he has been with University of Belgrade, Serbia, as a Research Associate at the Department of Electrical Drives, where he is currently part-time Assistant Prof. He is now at Electrical Engineering Institute "Nikola Tesla", Belgrade, Serbia, as a Principal Technical Associate for the field of energy efficiency. He is also founder and a Head of Accredited Laboratory for Power Quality testing at Institute Nikola Tesla.
His special fields of interest include power quality and energy efficiency, control of induction motor drives and industrial automation. He has published about 90 papers and one chapter in international book "Torque Control". He is reviewer of several international Journals. A.Nikolic is a Senior member of IEEE and a Member of the Board of Serbian Power Electronics Society.