Conference Location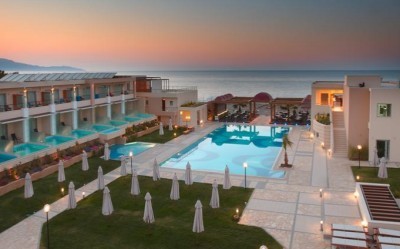 The conference will take place at the Minoa Palace Resort and Spa, Platanias, Chania, Crete, Greece.
Download the following guide with answers to all questions you may have regarding the location and how to get there:
Chania is the second largest city of Crete and the capital of the Chania regional unit. It lies along the north coast of the island, about 70 km (43 mi) west of Rethymno and 145 km (90 mi) west of Heraklion.
The city enjoys a typical Mediterranean climate, with sunny dry summers and mild rainy winters. During the period between April and October, clear-sky weather is almost an everyday feature. The atmosphere is always warm, but fierce heat waves (temperatures above 38 °C) are not very common, since the prevailing Etesian winds ("Meltemia") blow from northern directions and pleasantly moderate the conditions.
The city of Chania was slowly regaining its normal pace of development during the 1950s, trying to overcome the difficulties that the war had left as an aftermath. During the 1970s Crete became a major tourist destination for Greek and international tourists, something that gave a significant boost to the city's economy and affected the everyday life and the overall culture of the locals. The capital of Crete was moved to Heraklion in 1971. Chania and the rest of the island of Crete, unlike the mainland of Greece, is not suffering from the economic crisis, as the local economy is based on the horticulture products like the olive oil.
The city of Chania can be divided in two parts: the old town and the modern city which is the larger one. The old town is situated next to the old harbour and is the matrix around which the whole urban area was developed. It used to be surrounded by the old Venetian fortifications that started to be built in 1538; of them the eastern and western parts have survived. From the south, the old town is continuous with the new, and from the north the physical border is the sea. The centre of the modern city is the area extending next to the old town and especially towards the south.
The cultural background of Chania is very rich, first of all due to the town's long history and its interaction with many diverse civilizations in the past. Furthermore the location of Crete (immediately connected to Athens, situated between Europe, Asia and Africa) as well as the cosmopolitan atmosphere that tourism creates, have generally kept the town up-to-date with modern advances in art and knowledge. Currently, there are several museums, art galleries, theatre and music groups, educational and research institutions within the city.