Conference Location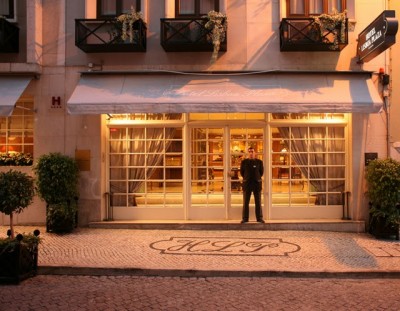 The conference will take place at the Hotel Lisboa Plaza, Tv. Salitre / Av Liberdade, Lisbon, 1269-066, Portugal.
Download the following guide with answers to all questions you may have regarding the location and how to get there:
Lisbon is the capital and the largest city of Portugal. It is the westernmost large city located in Europe, as well as its westernmost capital city and the only one along the Atlantic coast. It lies in the western Iberian Peninsula on the Atlantic Ocean and the River Tagus. Lisbon is one of the oldest cities in the world, and the oldest city in Western Europe, predating other modern European capitals such as London, Paris and Rome by hundreds of years.
Lisbon enjoys a Mediterranean climate. Among all the metropolises in Europe, it has the warmest winters, with average temperatures 15 °C (59 °F) during the day and 8 °C (46 °F) at night from December to February. The typical summer season lasts about six months, from May to October, although also in November, March and April temperatures sometimes reach around 25 °C (77.0 °F).
The westernmost part of Lisbon is occupied by the Parque Florestal de Monsanto (English: Monsanto Forest Park), an 10 sq km (4 sq mi) urban park, one the largest in Europe, and occupying ten percent of the municipality. Lisbon has two sites listed by UNESCO as a World Heritage Site: Belém Tower and Jerónimos Monastery. Locally, Lisbon's inhabitants may more commonly refer to the spaces of Lisbon in terms of historic bairros (neighbourhoods). These communities have no clearly defined boundaries and represent distinctive quarters of the city that have in common an historical culture, similar living standards, and identifiable architectural landmarks, as exemplified by the Bairro Alto, Alfama, Chiado, and so forth.
Like most metropolitan cities, Lisbon is surrounded by many satellite cities or suburbs, and it is estimated that more than one million people enter Lisbon every day for business or employment from these communities. Cascais and Estoril are among the most vibrant neighbouring towns for night life. Beautiful palaces, landscapes and historical sites can be found in Sintra and Mafra. Other major municipalities around Lisbon include Amadora, Oeiras, Odivelas, Loures, Vila Franca de Xira and, in the south bank of the Tagus river estuary, Almada, Barreiro and Seixal.