Plenary Lecture

Advanced Modelling and Prediction of Physical Polluting Agents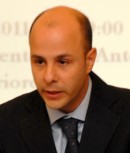 Professor Claudio Guarnaccia
Department of Industrial Engineering
University of Salerno
ITALY
E-mail: cguarnaccia@unisa.it
Abstract: The problem of assessing physical polluting agents, such as air pollution, acoustical noise, electromagnetic fields, etc., is nowadays a relevant issue to be pursued in urban areas. The health damages due to the pollutants has been largely studied in literature and documented with field measurements and surveys. Of course, it is very hard to draft a general and universal approach to any pollutant study, because of the different boundary conditions of each site under investigation. For instance, concerning acoustical noise, it will be shown how the statistical models developed in the second half of the 20th century, have a very different behaviour when tested on a case study and compared with field measurements. This will be the starting point to highlight the need for an advanced modelling of road traffic noise, i.e. the most important source in urban areas. From this point of view, several approaches will be discussed, based on different methods, such as Cellular Automata, Monte Carlo, Traffic Theory, Infinitesimal sources equivalences, etc., in order to give an almost complete overview of the state of the art.
In addition, regression methods will be presented, based on Time Series Analysis method. It will be shown which are the best conditions to perform a trend and periodicity evaluation of the time series, in order to build a robust model, able to properly predict the future slope of the pollutant in a certain time range. This approach has been tested both on acoustic noise levels and CO concentrations, and it can be easily extended to any pollutant. In particular, when a clear seasonal pattern is evidenced, the model can implement the periodicity in its formula and can furnish a good prediction interval. Depending on the dataset, a multiple periodicity can be also detected and implemented, in order to evidence the low and high frequencies of the time series.
Brief Biography of the Speaker: Dr. Claudio Guarnaccia is temporary Professor of Physics at the Civil Engineering Department and is post-doc researcher in Applied Physics at the Industrial Engineering Department of the University of Salerno. He graduated in 2004 and he took the PhD in 2008 in Nuclear Physics, at the University of Salerno, after a period spent at CERN (European Organization for Nuclear Research), in Geneva (Switzerland). Since 2005 he had teaching assistance activities at the Engineering Faculty of University of Salerno.
His research interests are focused on the application of the modern Physics methods to engineering, environmental and bio-mathematical problems, in the "Applied Physics" research group headed by Prof. Joseph Quartieri.
He is author of more than seventy papers in international journals and conference proceedings, and was invited for several plenary and keynote lectures in various institutes and conferences. He has been chair or member of the committees of a large number of conferences. He is "main researcher" in the "Modelling and Simulation" research group of WSEAS and has several research collaborations with national and international scholars and institutes. He is member of the Italian Association of Acoustics (AIA), the International Commission for the Occupational Health (ICOH), the World Scientific and Engineering Academy and Society (WSEAS), and several other international research communities and organizations.