Conference Location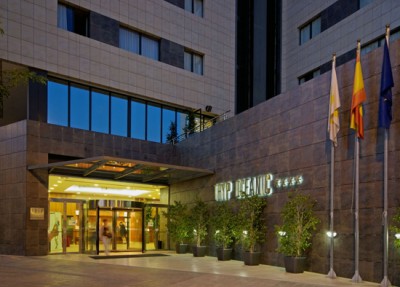 The conference will take place at the TRYP Valencia Oceanic Hotel, C/ Pintor Maella 35, 46023, Valencia, Spain.
Download the following guide with answers to all questions you may have regarding the location and how to get there:
Valencia is the capital of the autonomous community of Valencia and the third largest city in Spain after Madrid and Barcelona. Valencia is also Spain's third largest metropolitan area, with a population ranging from 1.7 to 2.3 million. The Port of Valencia is the 5th busiest container port in Europe and the largest on the Mediterranean Sea.
Starting in the mid-1990s, Valencia, formerly an industrial centre, saw rapid development which expanded its cultural and touristic possibilities, and transformed it into a newly vibrant city. Many local landmarks were restored, including the ancient Towers of the medieval city (Serrano Towers and Quart Towers), and the San Miguel de los Reyes monastery which now holds a conservation library. Whole sections of the old city, for example the Carmen Quarter, have been extensively renovated. The Paseo Marítimo, a 4 km (2 mi) long palm tree-lined promenade was constructed along the beaches of the north side of the port (Playa Las Arenas, Playa Cabañal and Playa de la Malvarrosa).
World-renowned (and city-born) architect Santiago Calatrava produced the futuristic City of Arts and Sciences (Ciutat de les Arts i les Ciències), which contains an opera house/performing arts centre, a science museum, an IMAX cinema/planetarium, an oceanographic park and other structures such as a long covered walkway and restaurants. Calatrava is also responsible for the bridge named after him in the centre of the city. The Music Palace (Palau De La Música) is another noteworthy example of modern architecture in Valencia.
Valencia is known internationally for the Falles (Las Fallas), a local festival held in March, and for paella valenciana, traditional Valencian ceramics, intricate traditional dress, and the architecture of the City of Arts and Sciences designed by Santiago Calatrava and Félix Candela.
Valencia has a subtropical climate on the borderline of the Mediterranean climate and semi-arid climate with very mild winters and long warm to hot summers.