Plenary Lecture

On Fundamental Sequential Confidence Interval Estimation Problems Revisited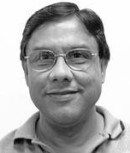 Professor Nitis Mukhopadhyay
Department of Statistics
University of Connecticut
Storrs, CT
USA
E-mail: nitis.mukhopadhyay@uconn.edu
Abstract: The literature on fundamental sequential confidence interval estimation problems had major breakthroughs with significant richness after the appearance of pioneering contributions of Dantzig (1940, Annals of Mathematical Statistics), Stein (1945, Annals of Mathematical Statistics), Anscombe (1952, Proceedings of Cambridge Philosophical Society), and Chow and Robbins (1965, Annals of Mathematical Statistics). This area was elegantly synthesized along with new directions for research by Ghosh and Mukhopadhyay (1976, Sankhya, Series B).
The literature has since grown tremendously in many directions with incorporation of operationally convenient multi-stage and computer-intensive sampling methods having first-, and often second-order, asymptotic properties. One will find many important directions from the texts of Mukhopadhyay and Solanky (Multistage Selection and Ranking Procedures, 1994, Dekker), Ghosh, Mukhopadhyay, and Sen (Sequential Estimation, 1997, Wiley), Mukhopadhyay, Datta, and Chattopadhyay (Applied Sequential Methodologies, 2004, Dekker), Mukhopadhyay and de Silva (Sequential Methods and Their Applications, 2009, CRC Press), and others.
In this plenary lecture, I will begin by summarizing the original contributions of Dantzig, Stein, Anscombe, and Chow and Robbins. Then, I will move to emphasize a clear roadmap linking some of the major methodological and theoretical developments from past 40 years. Real applications will be highlighted when appropriate.
Brief Biography of the Speaker: Professor Nitis Mukhopadhyay received his PhD degree awarded by the Indian Statistical Institute-Calcutta based on a dissertation dated 1975. He has been a full professor in the Department of Statistics at the University of Connecticut-Storrs, USA since 1985. He served as the Head of this department during 1987-1990.
He has made prolific contributions in many areas including statistical inference -parametric and nonparametric, multiple comparisons, clinical trials, applied probability, and applications. Professor Mukhopadhyay is especially revered for path-breaking contributions in sequential analysis as well as selection and ranking. His honors include elected Fellows of the Institute of Mathematical Statistics (2002), the American Statistical Association (2003), the American Association for the Advancement of Science (2012), elected Ordinary Member of the International Statistical Institute (2007), elected Member of the Connecticut Academy of Arts and Sciences (2014), and the Abraham Wald Prize in Sequential Analysis (2008). He is the Editor-in-Chief for the premier journal, Sequential Analysis, and serves as an Associate Editor for a number of leading international journals.
Professor Mukhopadhyay is the author or co-author of 6 books, 14 book chapters, more than 215 research papers, and editor or co-editor of 6 special volumes. He has supervised 22 PhD students as their major adviser. For more details, one may visit the website: http://www.stat.uconn.edu/~nitis/.