Conference Location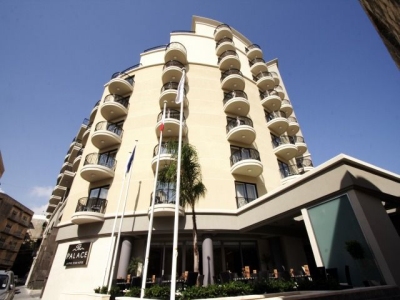 The conference will take place at The Palace Hotel, High Street, Sliema, Malta.
Download the following guide with answers to all questions you may have regarding the location and how to get there:
Situated in the Central Mediterranean Sea, Malta is a small archipelago of five islands - Malta (the largest), Gozo, Comino, Comminotto (Maltese, Kemmunett), and Filfla. The latter two are uninhabited. The distance between Malta and the nearest point in Sicily is 93 km while the distance from the nearest point on the North African mainland (Tunisia) is 288 km. Gibraltar lies at 1,826 km to the west while Alexandria is 1,510 km to the east. The capital city of Malta is Valletta. Malta is a country of bastions and belfries. No other country in the world has so many walled cities, churches and chapels in so small an area. The walled cities are Valletta, Mdina, Furjana (Floriana), Bormla (Cospicua), lsla (Senglea), and Birgu (Vittoriosa). Mdina, Malta's old capital city, ranks amongst the world's oldest mediaeval cities. St. John's Co-Cathedral, in the heart of Valletta, is hung with beautiful Flemish tapestries and houses many famous paintings by Caravaggio and Mattia Preti. Another church of distinction is the Mosta Rotunda, noted worldwide for its immense dome. Malta owes its rich architectural heritage to the rule of the Knights of the Order of St. John (1530-1798). Under the Knights, the Maltese discomfited the Turks of the Ottoman Empire in the Siege of 1565. They also built their capital city Valletta, a jewel of Baroque architecture. From the MTV music festival in Valletta to abseiling and climbing in Gozo, Malta rocks. Small in size but big in character, Malta offers cool cafes, buzzing night clubs, exhilarating activities, exciting festivals and amazing archaeological wonders, whatever the time of year.