Conference Location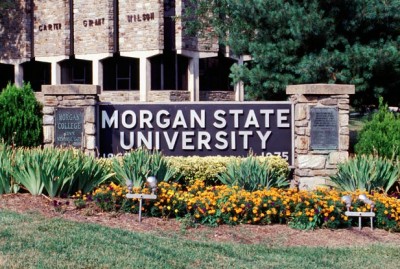 The conference will take place at the Morgan State University, 1700 East Cold Spring Lane, Baltimore, MD, USA.
Download the following guide with answers to all questions you may have regarding the location and how to get there:
Morgan State University Virtual Tour
Campus Map 1 | Campus Map 2 | Directions
Baltimore is the largest city in the U.S. state of Maryland and the 24th largest city in the country. It is located in the central area of the state along the tidal portion of the Patapsco River, an arm of the Chesapeake Bay. The independent city is often referred to as Baltimore City to distinguish it from surrounding Baltimore County. Founded in 1729, Baltimore is the largest seaport in the Mid-Atlantic United States and is situated closer to Midwestern markets than any other major seaport on the East Coast. Baltimore's Inner Harbor was once the second leading port of entry for immigrants to the United States and a major manufacturing center. After a decline in manufacturing, Baltimore shifted to a service-oriented economy.
Historically a working-class port town, Baltimore has sometimes been dubbed a "city of neighborhoods," with 72 designated historic districts traditionally occupied by distinct ethnic groups. Most notable today are three downtown areas along the port: the Inner Harbor, frequented by tourists due to its hotels, shops, and museums; Fells Point, once a favorite entertainment spot for sailors but now refurbished and gentrified; and Little Italy, located between the other two, where Baltimore's Italian-American community is based. Further inland, Mt. Vernon is the traditional center of cultural and artistic life of the city; it is home to a distinctive Washington Monument, set atop a hill in a 19th century urban square, that predates the more well-known monument in Washington, D.C. by several decades.
The Baltimore Symphony Orchestra is an internationally renowned orchestra, founded in 1916 as a publicly funded municipal organization. Center Stage is the premier theater company in the city and a regionally well-respected group. The Lyric Opera House is the home of Lyric Opera Baltimore, which operates there as part of the Patricia and Arthur Modell Performing Arts Center. The Baltimore Consort has been a leading early music ensemble for over twenty-five years. The France-Merrick Performing Arts Center, home of the restored Thomas W. Lamb-designed Hippodrome Theatre, has afforded Baltimore the opportunity to become a major regional player in the area of touring Broadway and other performing arts presentations. Baltimore also boasts a wide array of professional (non-touring) and community theater groups. Aside from Center Stage, resident troupes in the city include Everyman Theatre, Single Carrot Theatre, and Baltimore Theatre Festival. Community theaters in the city include Fells Point Community Theatre and the Arena Players Inc., which is the nation's oldest continuously operating African American community theater. In 2009, the Baltimore Rock Opera Society, an all-volunteer theatrical company, launched its first production.
More information about Baltimore.